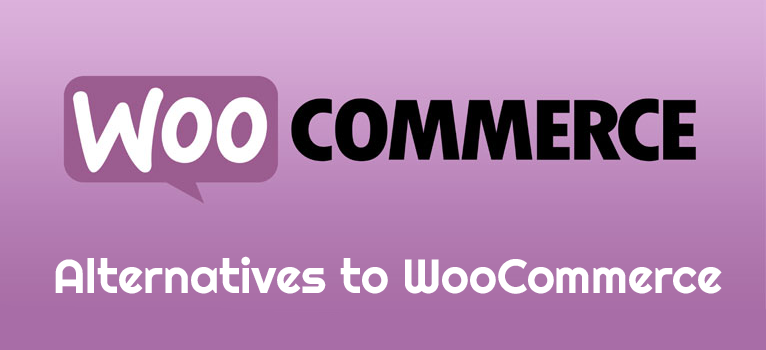 WordPress users the world over have become quite accustomed to using WooCommerce as their chosen e-commerce solution. But just because many users go with this for their store-front option doesn't necessarily mean you have to follow their lead.
WooCommerce has been around for a decade now since it's first inception. It is built used elements of the Zend Framework and is fully open source. Written in PHP, it uses MySQL/MariaDB to store its data.
The reason why WooCommerce remains as such a popular choice for WordPress users is because it integrates so easily with their established blog set-ups. It also helps that is is free, something that make it very attractive for those on a tight budget. It is also feature-rich and user-friendly.
OK, WordPress has an extensive collection of themes, plugins and widgets that make life very easy for their users, but there are other options that you can consider too. Lets take a look at some sound alternatives that you may want to look at, especially if your business is growing and you want to move in a different, more professional direction. Some of these suggestions you may already have heard of, but others you may not be aware of but are very much worth your consideration.
Alternative Option 1: Shopify
You may already be familiar with Shopify as it is already a very popular and well established e-commerce platform. Shopify is run by a Canadian firm and has been around since 2004. Used by an estimated 400,000 plus people with numbers growing steadily every day, it's popularity has grown because it is very user-friendly and simple to use. It is very easy for you to tailor the look and feel of your site through the drag and drop store builder tools.
With fully responsive built-in themes to use, it makes it easy for you to attract traffic through smartphone and tablet use without having to do any time-consuming tweaking to your design by yourself to make it mobile-friendly. This makes life a lot easier for first time e-commerce sellers.
Claiming that it is "optimised for growth", Shopify comes complete with a wide range of analytical and reporting features to help you test new sales strategies and refine your results to optimise your marketing efforts. Integrating popular services such as Mailchimp and Xero Accounting is easy making this a very user-friendly choice for your e-commerce needs.
Alternative Option 2: Magento
Magento has grown to be a favourite e-commerce platform that can easily rival WooCommerce. One reason why Magento has grown in popularity so rapidly is down to the massive size of its feature list. One of the most attractive things about it is that you can run a multiple number of stores from a single admin area. Magento integrates with third party applications through its API services and offers exemplary content management tools.
You can see why this is a popular choice with new users because you can get everything up and running very quickly right out of the box. This includes being able to accept payments and apply billing and shipping options instantly. This in itself is a great time saver. With a very comprehensive range of themes and add-ons at your fingertips, you will be able to build a perfectly tailored site and get it up and running very swifty.
Check WizzHosting's hosting packages If you are looking for a package that includes Magento.
Alternative Option 3: PrestaShop
With over 250,000 active store-fronts, PrestaShop is one of the most popular free options open to you. Originally a French concept that started in 2005 and was named 'phpOpenStore', PrestaShop has now established itself as a major player within the e-commerce sector.
As with other popular e-commerce options available today, PrestaShop comes complete with everything you would expect from a professional e-commerce platform. This includes shipping and billing modules, payment integration and other plugins and add-ons that will enable you to fully customise your shop to suit your needs.
Alternative Option 4: Jimdo
Here is an e-commerce platform that you may well have not heard of or know much about. Nevertheless, this is an option that you should consider as it offers it users a great deal of flexibility and ease of use for anyone new to building an e-commerce site.
Jimdo isn't your traditional install and build type of set up, but it does have an extensive feature list and is very user-friendly in it's approach, so this makes it a very appealing option, especially for new users.
With Jimdo, you are able to create your e-commerce site in a simple step by step method where most of the work has already been done for you. This can be a great boon for someone setting up their first site and who wants to keep things simple and straightforward. However, if you are a seasoned business user who requires a bit more complexity and tailoring away from standard offerings, then maybe Jimdo would be a little too basic for your needs.
With this platform, building your site is as easy as clicking and dragging your chosen options into a blank template, filling the site with your products and adding your preferred payment processor. This can take mere minutes and is designed to make the whole process of creating and publishing your shop as simple as possible. Little is left to chance here and even the most novice of beginners can quickly work through the steps to get their store up and running very quickly indeed.
Alternative Option 5: BigCommerce
This is a great solution if you are a bit more of a seasoned business user and need something a little less basic than what is on offer from many other generic service providers. If you like the idea of being able to design your own shop from the foundations up, then you should consider using BigCommerce as it gives you the flexibility of building your shop brick by virtual brick.
You can jump in an build your site module by module to perfectly tailor the end result to suit your needs. But if you are a little uncertain about what you want, there are also some great options available to use ready made designs that you can then manipulate and tailor to suit your particular tastes.
Every element you choose is fully mobile responsive, so you don't have to worry that your site will not be able to carry across to smartphones and tablets. Another big bonus is that you can link your shop up and be able to sell through Facebook, Amazon and Google Shopping.
If you choose BigCommerce platform you will be getting all the standard features you get from other sites, such as inventory control, order management and customer control, as well as the usual payment processor options such as PayPal, Apple Pay and Stripe.
Conclusion:
All in all, these five alternative e-commerce website solutions can be considered as worthy rivals to WooCommerce as your chosen provider. If you are about to set up a new online shop, then it is worth checking out the features on offer from each of these providers before taking your next step.
Wizz Hosting provides reliable website hosting solutions, not only are we very affordable we also pride ourselves on delivering excellent customer services. So if you are looking to register a new domain, start a reseller hosting account or a VPS solution for your business, we can help!
If there is anything you would like to discuss with our team, we would be happy to hear from you, get in touch with us today.